Hello! Welcome to my research homepage!
I am Daming Xu, currently a fifth-year Ph.D student in College of Optics and Photonics (CREOL) at University of Central Florida under the supervision of Prof. Shin-Tson Wu. Prior to this, I received my B.S. in Information Engineering from Southeast University (2011, Nanjing, China).
<![if !vml]>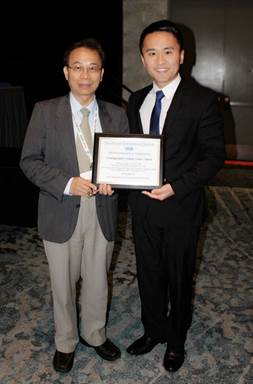 <![endif]>My current research mainly focuses on high-performance liquid crystal devices for display and photonic applications. I have five years hands-on experience on liquid crystal device design and material characterization for achieving low power consumption, superior image quality, fast response time, brilliant color performance, etc. In particular, the in-plane switching (IPS) LCDs, including fringe field switching (FFS), and some emerging display technologies (e.g. blue phase liquid crystals, virtual/augmented reality display, etc.) are of great interest to me. For more info about my research, please refer to my resume.
As of 03/2016, I have published 1 book chapter, 23 journal papers, 15 international conference papers and 1 US patent.
Contact:
Phone: (407) 823-4922
Fax: (407) 823-6880
Email: damingxu@knights.ucf.edu
Address: College of Optics & Photonics,
University of Central Florida,
4000 Central Florida Blvd.
Orlando, Florida 32816-2700
<![if !vml]>

<![endif]>  <![if !vml]>

<![endif]>  <![if !vml]>

<![endif]>  <![if !vml]>
<![endif]>