<![if !vml]>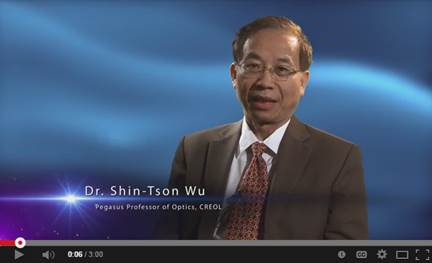 <![endif]>
Pegasus Professor
Phone: (407) 823-4763
Fax: (407) 823-6880
Email: swu@ucf.edu
College of Optics & Photonics,
4000 Central Florida Blvd
Orlando, Florida 32816-2700
News:
Prof. Wu received the prestigious Esther Hoffman Beller Medal from OSA (03/2014)
Daming Xu, Zhenyue Luo and Esther Chen won SID'14 Distinguished Paper Awards (03/2014)
Prof. Wu's exceptional achievement & significant impact to LCD academia and industry feature the headline news on UCF Today (03/2014)
Dr. Martin Schadt was elected Fellow of the National Academy of Inventors (NAI) (03/2014)
Biography:
Dr. Shin-Tson Wu is a Pegasus professor at CREOL: The College of Optics and Photonics. Prior to joining UCF in 2001, he was with Hughes Research Laboratories (Malibu, California) for 18 years. He received his Ph.D. in Physics from University of Southern California (Los Angeles) and BS in physics from National Taiwan University (Taipei). He is also an honorary professor of Nanjing University (China), an international chair professor of National Taipei University of Technology (Taiwan), and a guest professor at Southeast University, Sichuan University, and Shanghai Jiao Tung University.
Prof. Wu is a recipient of Esther Hoffman Beller Medal (2014), SID Slottow-Owaki Prize (2011), OSA Joseph Fraunhofer award/ Robert M. Burley Prize (2010), SPIE G. G. Stokes Award (2008), and SID Jan Rajchman Prize (2008). He was the founding Editor-In-Chief of IEEE/OSA Journal of Display Technology. He has co-authored 7 books: "Introduction to Adaptive Lenses" (Wiley, 2012; with H. Ren), "Transflective Liquid Crystal Displays" (Wiley, 2010; with Z. Ge), "Introduction to Flat Panel Displays" (Wiley, 2008; with J. H. Lee and D. N. Liu), "Fundamentals of Liquid Crystal Devices" (Wiley, 2006; with D. K. Yang), "Introduction to Microdisplays" (Wiley, 2006; with D. Armitage and I. Underwood), "Reflective Liquid Crystal Displays" (Wiley, 2001; with D. K. Yang), and "Optics and Nonlinear Optics of Liquid Crystals" (World Scientific, 1993; with I. C. Khoo), over 440 journal papers, and obtained 79 U.S. patents. His publications have accumulated over 16,500 citations (h-index 65).
Prof. Wu is a Charter Fellow of the National Academy of Inventors (NAI), and a Fellow of the IEEE, OSA, SID and SPIE. Presently, he is serving as Chair of OSA Publications Council, OSA Board of Directors, SID Honors and Awards Committee, and SPIE Stokes Award Committee.
Useful Links: CREOL Faculty    SID UCF Student Branch
<![if !supportMisalignedRows]>
<![endif]>